About "Kominka"
Interested to live in an Old Japanese Traditional Homes?
Properties of restored old Japanese traditional houses for sale, in suburban Kyoto.
We -Furusato Kikaku- are housing renovation professionals. We renovate Japanese traditional old houses,
"Kominka," built more than approximately hundred years, with authentic classical technology.
Then, sell them as residential houses, mainly located in the suburban area of Kyoto.
Living in Japanese Kominka, may bring happier and generous life.
What is "Kominka"?
- Japanese Traditional Old House -
Definition
There is no determined definition of "Kominka." However, it is generally described as the residential house built by Japanese traditional architectural method before the 1920's.
We, Furusato-Kikaku introduce properties, built more than approximately hundred years.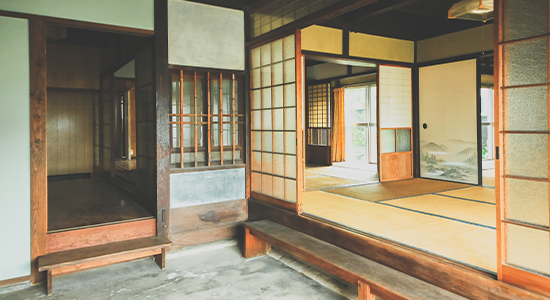 Features
Kominka is built based upon Japanese traditional architectural method, which may also be applied to constructing Japanese temples and shrines. This method does not use nails, but wooden joint to structure its high durability. Also, the unique and beautiful color of wooden thick beam and main pillar becomes fascinating as they age accordingly.
About Kominka by Furusato-Kikaku
Collaboration of traditional and current technology
Utilizing the Japanese traditional constructing method, we restore houses built more than approximately hundred years and integrate current life style, such as facilitation of the latest kitchen.
Living in Japanese original scenery
The properties we manage at Furusato-kikaku, are located in the suburbs, surrounded by mountains and rivers, where Japan's nature can be appreciated. There are properties next to agricultural landscape. You can enjoy the life of countryside, surrounded by Japan's original scenery.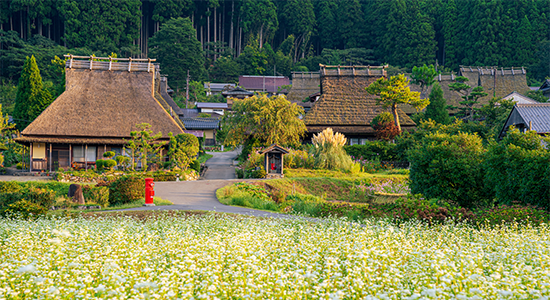 Disaster Resistant High Durability
It is said that, houses built by Japanese traditional construction method endures between 200 years to 300 years, if it is maintained properly. Our restoration recovers its high durability even from the disasters, such as earthquakes.
Recommended for immigration, residency, and investment
Recommended properties for immigration or as second house. Inquiries are increasing for considerations as investment property for leasing and Airbnb.
How to Purchase

Inquiries
Please inquire through "Inquire" button below.

Brochure Request
Please kindly request should you need any brochures or related documents.

Property Viewing
Please kindly request should you need any assistance with property viewing and questions related to making contracts.
Contract
We are happy to support your governmental application, familiarization with the locals, and making the contract respectively.
Attention
Please be aware that the response to your inquiry may delay, due to we are yet organizing English assistance service. Should you seek for earlier reply, please kindly inquire us accompanied by YOUR Japanese assistance. We apologize for your inconvenience and appreciate your understanding.